What is a single hung window?
A single hung window is a window type, which is standard for new homes, apartments and office buildings. These windows have been popular for many decades and are still the most wide-spread in the modern world. A single hung window consists of two parts, which are called sashes. The top part is fixed, while the bottom sash slides up and down. When the window is open, the bottom sash obstructs the top one. Due to the low cost of single hung windows, they have been gaining popularity, even though there is a lot of competition on the window market.
Single hung windows are very easy to install and don't require professional assistance. This cuts installation costs, which is often important for home owners. However, cleaning such windows can become a real hassle. The top part is stationary, accordingly reaching it is quite complicated. When the window is open, the bottom sash obstructs the top one, so it is impossible to clean. If the window is not close to the ground and can't be reached from the outside, a professional window cleaner must be hired.  Single hung windows rarely need repair, since the constructions is rather simple. There isn't much which might require attention.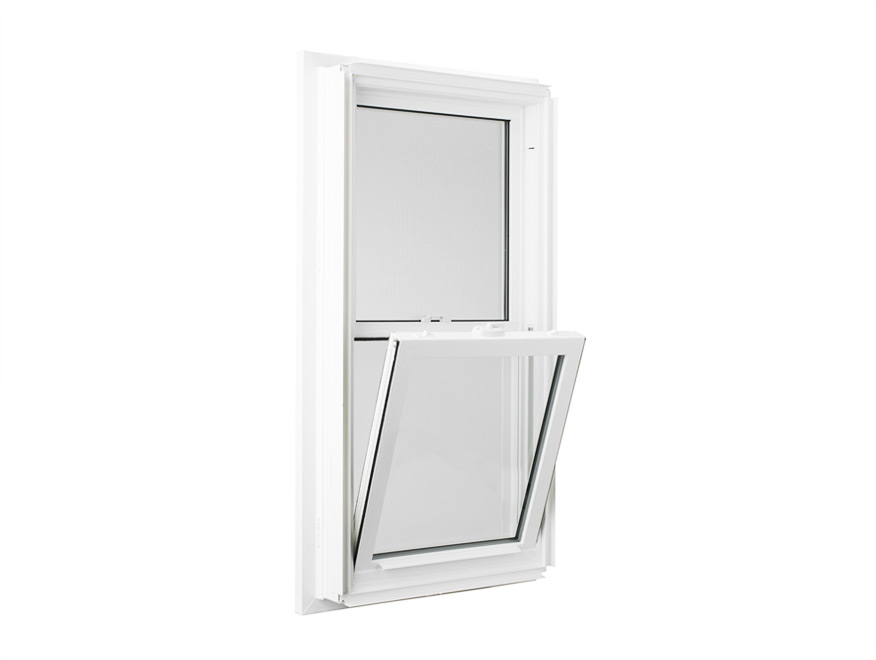 Single hung windows are made from different materials. The cheapest ones are made of vinyl, while more expensive frames are made out of wood. Wooden windows will be more expensive and more durable than vinyl ones. There are also aluminum frames. The integrity of single hung window frame is quite important, since these windows are more susceptible to break ins than their double hung counterparts, because they have just one lock. Check standard single hung window sizes here.
Purchasing a single hung window will definitely save a home, apartment or office owner some money, however, there are some disadvantages, which should be careful noted.
Advantages of Using single hung window
Single hung windows have a long history, which dates back to the 20th century. This is the most popular window type installed in US apartments and homes for over 90 years. These windows are truly built to last a lifetime and usually don't have too many unfavorable reviews from the users. A single hung window has one movable panel, also called a sash. Accordingly, the air flow is regulated by the height at which you move the sash to. However, right now many stores offer double-hung windows, which some call a new and improved window type. Even though they might seem as a good idea, many people still choose the single-hung option for their home. Let's take a look at 5 advantages of using single-hung windows in the modern world.
Cost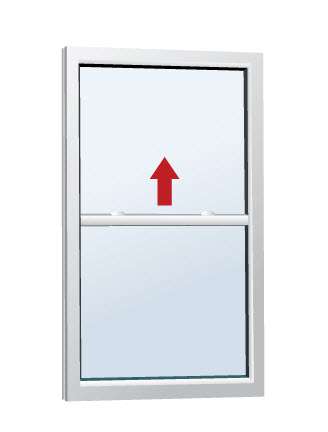 This is the first and the most important advantage of buying a single-hung window. The cost of the window itself and the installation is rather affordable. In fact, you would spend up to 25 % less on a single-hung window installation, than you would on a double-hung one. This is especially important when you are building a home and cost cutting is rather challenging.
Easy repair
Due to the simple structure of a single-hung window, the problems are rather rare. When people buy complicated accessories, they usually get into a lot of trouble when something goes wrong. There is not much that can go wrong with this window. It is so simply designed that any breakdown will be quite simple to fix. At the same time the repairs will be much more affordable than for more complicated structures.
Popularity
Single-hung windows are the most popular windows in United States. Accordingly, it is very easy to find what you are looking for. If you are trying to cut costs, you are bound to find some good deals on these windows due to their popularity. Same goes for repair materials. You will unlikely be faced with a situation when you will need to wait for spare parts to be delivered.
East Installation

Due to the simplicity of the structure, a single hung window is rather easy to install. In fact, if you have been dealing with tools before, you might even install these windows on your own. There are some tutorials available for such window installation on the Internet.  In fact, even the most inexperienced installer, can do the job. This will really do wonders for cost cutting.
 Single hung vs double hung windows
Reviews
Since single-hung windows have been on the market for a very long time, you can easily find many different reviews for these products, which makes the choosing process much easier.  If you are about to build a house or do some window replacement, the reviews of home owners can become a really great help.
There are many advantages to installing single hung windows in your home. You can take a look at other windows to make a comparison. A single-hung window has its disadvantages as well, however, it is often the best choice available.